SD cards are widely used as external storage media in various electronic gadgets including digital cameras, camcorders, mobile phones, iPods, and many more. Most of the photographers and other users use SD cards in their cameras to save large number of photos that are captured during their memorable moments. As the SD cards are used on several electronic devices including computers, they are easily prone to corruption issues. Unless corrupted SD cards are formatted, it is not possible to get access SD card files. With no other option, most of the users format their SD cards and lose all their valuable files within no time.
SD card users those who come across a situation like mentioned above do not have to worry, because formatted SD card recovery is possible now with the assistance of Nikon Photo Recovery software. This software is programmed with special scanning algorithms, using which it scans the formatted SD card and recovers all files within few couple of clicks. This software is availoable both in Mac and Windows versions. Mac users can use Mac version of this software to recover photos from Nikon camera on Mac based machines in simple steps. Before going to know how to perform the task of data recovery from formatted SD card, one have to be aware of scenarios that prompts to formatting the SD card, which are discussed below.
At times, when the file system of SD card gets corrupt severely, then you may encounter format error message like "Disk in the drive not formatted, do you want to format it now?". In such situation, if you select 'Yes' option, then you will lose all the files saved in your SD card within no time. If you want to know how to recover photos from corrupted micro sd card , then download and use its demo version which is free of cost.
Severe virus and malware infection to SD card may result in inaccessible of files saved over it. To get rid of this issue and make SD card for further usage, most of the users format it and lose all their files in a fraction of few seconds.
Accidental formatting is one of the most common reasons behind data loss. In some circumstances, when SD card connected to your system, you may format it unintentionally by mistake. When SD card is connected to your system, you may decide to format your hard drive partition and by mistake, you may format the SD card.
Improper conversion of file system, abrupt ejection of SD card, formation of excessive bad sectors on SD card, power outage, fluctuations in power supply, etc. can cause corruption to your SD card. Corrupted SD cards are useless until and unless you format corrupted SD cards.
How to recover Photo from formatted SD card?
To avoid these data loss scenarios, it is very important to have proper backup of all your important files from SD card. But, you may be unaware about these data loss scenarios and may fail to maintain legitimate backup of your essential files and may come across any of these data loss scenarios. If this is the case, avoid further usage of your formatted SD card in order to prevent overwriting of data. Then, straightaway download the demo version of Nikon Photo Recovery software and execute it. It scans and recovers all the media files from your formatted SD card in few mouse clicks. Once scanning and recovering is done, all the recovered files can be previewed before to their restoration. In order to save the recovered files, you need to activate the complete edition of the software. Nikon camera users, those who are using compact flash card in their camera as external storage device can recover Nikon CF card data by using this software.
Features of this software:
Nikon Photo Recovery software is capable of recovering different types of media files which includes RAW, JPG, JPEG, NEF, CRW, CR2, ARW, TIFF, GIFF, PNG, DNG, MP3, Mp4, MOV, AVI, MKV, and many more. It supports formatted SD card recovery on both Mac and Windows running computers. Moreover, it can retrieve files from formatted SD card as well as from corrupted SD card with ease. It has ability to restore data from SD card after formatting task that has FAT16, FAT32, NTFS, HFS, or HFSX file systems. Using this software, you can recover files from formatted SD card that was used in Nikon cameras. Infact, using this tool, one can recover deleted files from Nikon flip video camera, Nikon CoolPix camera, and other digital camera brands.
Steps to Restore Data from formatted SD card:
Step 1: Install this Photo Recovery tool in your computer and connect your formatted SD Card to it. After launching it, select "Recover Photos" option from main window.
Fig 1: Main Screen
Step 2: From this list of drives, choose SD Card and click on "Next" to start scanning operation.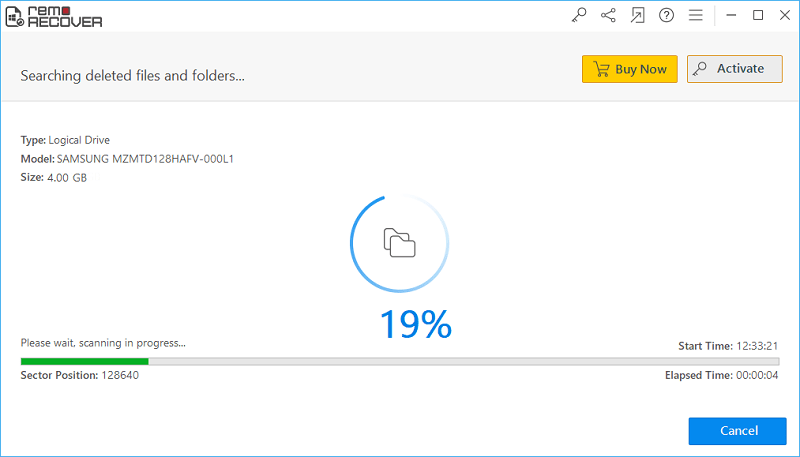 Fig 2: Select SD Card
Step 3: After scanning process, recovered files from Select SD Card can be previewed using "Preview" option before saving.
Fig 3: Preview Pictures